Antofagasta – Three New Projects
In August 2017, Ultra Lithium entered into an agreement to acquire 100% interest in three additional Lithium Brine properties covering 22,176 hectares, located in the Antofagasta region, Province of Catamarca in Argentina. Our three Antofagasta Projects comprise of 11 mining licenses and include:
Antofagasta Three New Projects – Highlights
Amelia Property
Comprised of 3 mining licenses Amelia I-III, covering 5,400 hectares located in the northern part of Salar de Antofalla, a lithium, potassium deposit historically explored by Rio Tinto and in the vicinity of Albemarle Corporation's Salar De Antofalla property.
Laguna del Salitre / Laguna de Aparoma Property
Comprised of two licenses covering 5,400 hectares, located about 80 km to the south of the Salar del Hombre Muerto partly owned by FMC Lithium.
Archibara / Laguna Verde Property
Comprised of six mining licenses Archibara I-III, and Laguna Verde I-III, covering 11,376 hectares located about 80 km to the north of Albemarle's project.
The acquisition of La Borita Property opened up doors for the Company to acquire a sufficiently large area to carry out lithium exploration in a very promising and strategic region within the world renown Lithium Triangle. These Antofagasta Properties are in the vicinity of a producing mine operated by FMC Corporation, and other deposits owned by Galaxy Lithium and Albemarle, a leading lithium producer in the world.
The company has developed a work program to complete bench scale testing on La Borita to produce lithium brine concentrate, and to carry out systematic sampling on each mining license. The sampling results will enable us to prioritize further exploration work.
Antofagasta Agreement Terms
Under the terms of agreement signed on June 20, 2017 between Luis Manuel Alvarez (the Vendor) and the Company, ULI will pay the following:
2,486,040 Argentinian Pesos (approximately USD $155,378) to the Mining Secretariat of Catamarca for outstanding canon fees upon signing the agreement.
USD $30,000 after due diligence is completed.
USD $1,980,000 in four equal quarterly payments commencing 270 days from signing the agreement to acquire 100% rights on the Property.
The Vendor will retain a 2.5 % royalty.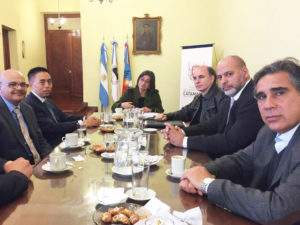 Recent Ultra Lithium senior management meeting
with the Governor of Catamara Province, Argentina
during their August 2017 trip to Argentina.