24M Semisolid Batteries a Game Changer
24M Semisolid Project Raises $24 Million
The transportation industry is changing. Granted, the transition from combustible engines to plug-in vehicles seems slow. However, a major technological breakthrough is ready to accelerate the process. Consequently, 24M Semisolid lithium-ion batteries will soon be realized. Granted, this isn't a self-explanatory statement. Let's break it down.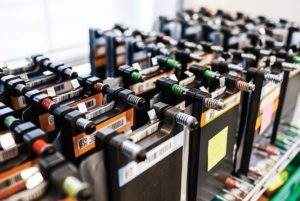 Research firm 24M recently raised $22 million in funding, mostly from 2 large Japanese firms.  Consequently, the successful funding round forces the world to pay closer attention to the technology on offer. 24M has three primary goals for their potentially revolutionary battery.
First, reduce cost. Second, reduce weight. Third, increase lifespan.
They plan to achieve this by stripping out inactive electrode materials. Furthermore, the technology is a hybrid between modern liquid state and upcoming solid-state Li-Ion batteries.
Simplifying the Li-Ion Battery
Unfortunately, the original project was started in 2010. However, 24M CEO Rick Feldt says the batteries built in his company's pilot labs are revolutionary. Apparently, they outperform any Li-Ion battery on the market today in terms of energy density. This is important for a number of reasons. First, it kills the 'Range Anxiety' that stops potential EV owners from entering the market.
Second, the process used by 24M drastically optimizes battery performance. It virtually eliminates the need for plastics, copper, and aluminum. Consequently, cost and energy needs are greatly reduced. Currently, the highest-performing Li-Ion batteries feature energy densities of 250 Wh/kg. Meanwhile, 24M's batteries have reached nearly 300 Wh/kg.
The Breakthrough an Industry Craves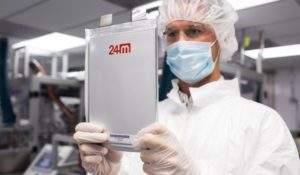 Globally, clean energy tech faces a number of hurdles. First, partisanship at every level of government. Even though the Trump administration identified lithium as a vital element to economic health, it pulled out of the Paris agreement. Second, more people must be exposed to clean energy technologies for wider adoption to take place. A little-known fact: social groups influence EV adoption. Third, the industry relies heavily on innovation. Because the combustible engine's had such a massive headstart, gas-burning vehicles are still more efficient. However, this will change.
And 24M's lab of trailblazing researchers and scientists proves it. Although the process has taken longer than originally thought, semisolid batteries will revolutionize the auto industry. Moreover, they'll revolutionize consumer electronics and grid storage applications. As a result, you'll no longer need to charge your phone daily.
Related Articles
Ultra Lithium Inc. A team of lithium experts with a finger on the pulse of clean energy news, Ultra Lithium is a lithium exploration company with holdings in Argentina, Canada and the US (TSX-V: ULI, OTCQB: ULTXF and Frankfurt: QFB).