Amelia Brine Lithium Property
In August 2017, Ultra Lithium entered into an agreement to acquire 100% interest in three additional Lithium Brine properties covering 22,176 hectares, located in the Antofagasta region, Province of Catamarca in Argentina. Our three Antofagasta Projects comprise of 11 mining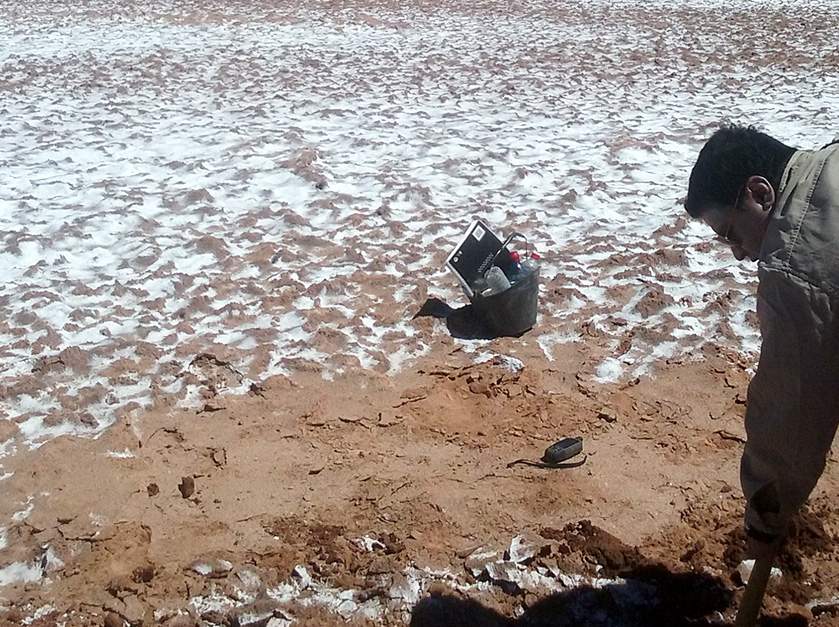 licenses. The acquisition of the Amelia Property has opened up doors for the Company to acquire a sufficiently large area to carry out lithium exploration in a very promising and strategic region within the world renown Lithium Triangle. These properties are in the vicinity of a producing mine operated by FMC Corporation, and other deposits owned by Galaxy Lithium and Albemarle, a leading lithium producer in the world.
The Amelia Brine Lithium property includes 3 mining licenses Amelia I-III, covering 5,400 hectares located in the northern part of Salar de Antofalla, a lithium, potassium deposit historically explored by Rio Tinto and in the vicinity of Albemarle Corporation's Salar De Antofalla property.
Amelia Property Highlights
ULI's Amelia Property is in Salar Antafalla and is located adjacent to the north of Antafalla property which was acquired by Albemarle from Bolland Minera in 2016.
According to Roskill's report of September 16, 2016, Bolland Minera, has to-date drilled 56 boreholes over 265 square km and defined a resource of 83Mt of potash (KCl) grading 6,400mg/l and 2.22Mt of lithium (11.8Mt LCE) grading 350mg/l.
A review of historical drill logs of Bolland indicate that lithium grades tend to increase with depth. Ultra Lithium will plan to drill deeper holes after finishing geophysical survey work on the Property.
In September 2017 the Ultra Lithium dug 12 shallow holes down to a depth of one meter or more. The results of this sampling indicated anomalous values of lithium, in the range of 2.55 mg/L to 75.5 mg/L with an average of 31.8 mg/L; magnesium values are in the range of 36.3 mg/L to 1100 mg/L with average 528.8 mg/L, boron less than 14 mg/L to 27.5 mg/L, potassium less than 15 mg/L to 1,390 mg/L.
Based on the success of preliminary sampling work, Ultra Lithium has planned a detailed exploration work on the Property which includes ground geophysical survey to define basin configuration and establish brine exploration targets. A core drilling program will be implemented if the geophysical survey identifies brine exploration targets.
2017 Sampling Data Argentinian Lithium Properties
To view the complete September – October 2017 Sampling Data for our Argentinian Lithium Properties – click here.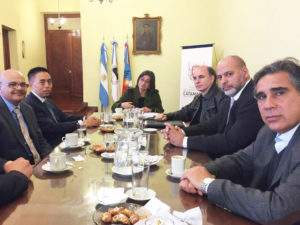 Recent Ultra Lithium senior management meeting
with the Governor of Catamara Province, Argentina
during their August 2017 trip to Argentina.
Cautionary Note: The above resource estimation information is taken from this publicly available source, and the Company has not independently verified the information referenced and should not be relied upon. The information is not necessarily indicative of the mineralization on the ULI's Antafalla Property, and is provide as background and context material for the reader. This information will be beneficial for the Company for developing next phase of exploration work on the Property.