Forgan Lake Lithium Project
Forgan Lake Lithium Project Highlight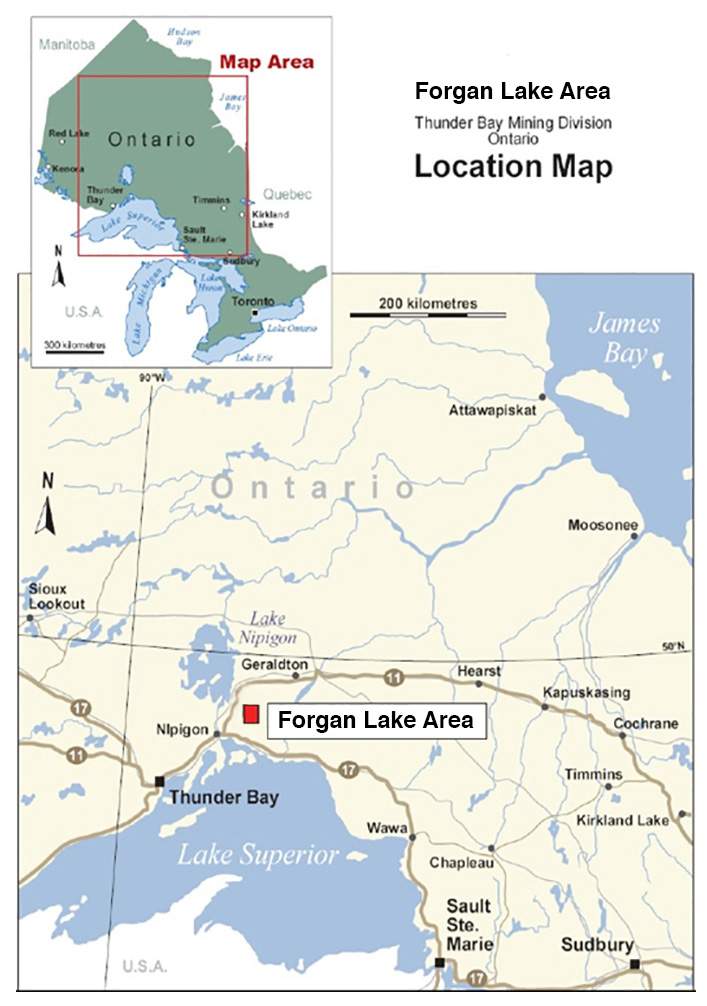 Agreement to acquire 100% ownership interest in the Forgan Lake Lithium property

The 256-hectare lithium property consists of 16 units

One legacy claim TB4244103 converted to 18 cell claims and 2 boundary claims
Adjacent to the Lucky Lake claim block
On the northwestern part of Ultra Lithium's Georgia Lake Lithium Property
Located in the Thunder Bay Mining Division, Ontario, Canada
Stable and favourable mining jurisdiction
Excellent infrastructure
Located near provincial Highway 11
Approximately 150 km from deep water port in Thunder Bay
Power close by
Mining personnel and contractors available locally
Historical Exploration
Historical work on the property was first carried out by Lun-Echo Gold Mines Limited between 1955-61. Exploration work included 39 drill holes, aggregating 10,561 feet (3,219 metres) on the eastern side of Forgan Lake. Lithium mineralization on the Property is comprised of six spodumene-bearing pegmatites (Number 1 to 6 Pegmatites as described in the Ontario Department of Mines Geological Report No. 31). Some of these Pegmatites continue onto the Lucky Lake claim block.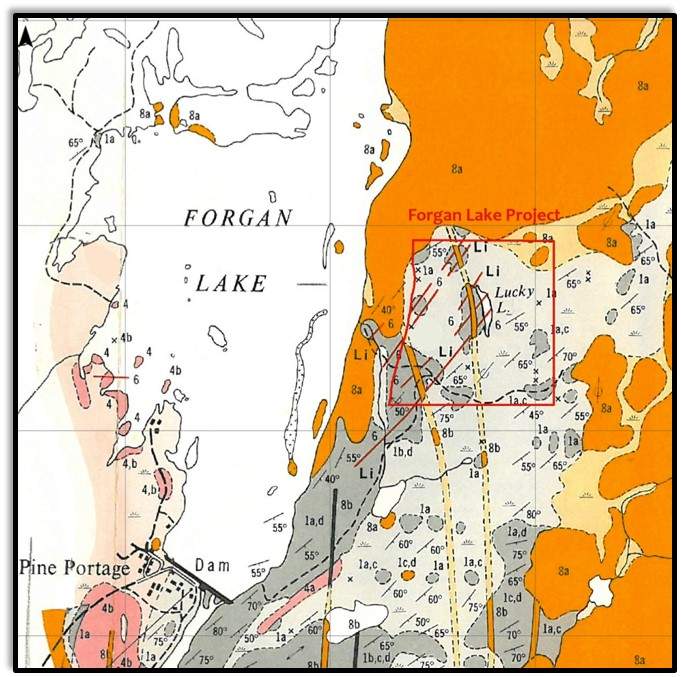 Several channel samples were taken on Number 1 Pegmatite by Lun-Echo Gold Mines Limited. Three samples, from about midway along the known length of the pegmatite were found to average 2.57% lithium oxide (Li2O) over a width of 21 feet (6.4 m); two samples from 80 feet (24.38m) southwest of the first three, averaged 4.23% Li2O over 24.5 feet (7.46m), and an additional two, from 225 feet (68.58m) farther southwest 1.98% Li2O over 25 feet (7.62m).
Future Exploration
This acquisition will enhance the exploration potential of our Georgia Lake Claims and strengthen the Company's relationship with International Lithium. Ultra Lithium intends to start a work program on the property as soon as historical data compilation is completed. This will be followed up with a near-term test production program using high-grade surface mineralization.
.
CAUTIONARY NOTE: The historical results presented above are taken from the Ontario Department of Mines Geological Report No. 31 titled, "Geology and Lithium Deposits of Georgia Lake Area", by E.G. Pye, (1965) and are relevant to the further exploration of the project which, the Company intends to undertake in the future. A qualified person has not done sufficient work to verify the results; therefore, they should not be relied upon and are presented for informational purposes only.