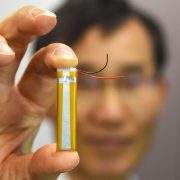 Lithium Demand Rises
There are many reasons lithium demand exceeds supply. 
Electric Vehicles (EVs) increase in popularity. Mobile apps command more attention. Personal computers are a fixture of both home and office life.
Lithium powers these technologies.
As a result, the world's energy requirements have skyrocketed. So has lithium demand.
Most mobile phones can last 24 hours
This is possible even with heavy application use.
However, we ask more of batteries than ever before. More people are working from home and smartphones are no longer a choice.
Smartphones' Impact Tied to Lithium
Consider the tech sector's widespread innovation. Most of that brainpower is directed at phones. The result: lower prices on what used to be considered 'premium' technologies.
The Bureau of Economic Analysis (BEA) found that annual phone prices have fallen 15.2% since 2003. 
Tech Advances are because of Smartphones
Engineers communicate faster and more efficiently than ever. 
Consequently, lithium-ion batteries are becoming more efficient.
As Batteries Shrink, Productivity Soars
Lithium-ion batteries are 1.4 times more expensive than lead-acid batteries. They've captivated a world addicted to faster processing speeds at lower prices. The only issue: mining lithium is a challenge. 
But lithium demand won't wait.
LinkedIn, Facebook, SalesForce, Bumble and thousands of other applications rely on lithium. After all, a better way to power smartphones doesn't exist.
How Large is Global Lithium Demand?
The global market for power banks could reach $25 billion by 2022. 
This market is likely to grow as the transportation sector electrifies. Securing lithium supply is becoming more important and challenging for manufacturers.
Volkswagen and Tesla Enter the EV Market
They've both rapidly increased production quotas.
Not surprisingly, they aren't alone.
Lithium Mining Tech hasn't Matured
The technology used to explore and mine lithium hasn't matured. Not like oil industry tech.
The science behind oil barrel production has enjoyed years of trial and error.
Meanwhile, society's thirst for lithium has been sudden, exceeding the technology used to extract it. 
Lithium Demand Leads to the Lithium Triangle
54% of the world's lithium is found in South America's "Lithium Triangle." 
This includes Argentina, Chile and Bolivia.
Australia is the world's leading lithium-producing nation. It holds over 2.7 million Megatonnes (MT) of lithium reserves.
China gets most of its lithium from Australia
The communist state is the world's largest producer of lithium-ion batteries and EVs. It is also investing heavily in exploration operations elsewhere.
Recently, a $265-million investment in a Canadian exploration project was finalized in 2017.
The Challenges in Finding and Mining Lithium
South America and Australia mine lithium in different ways. These are the world's top producers.
The path to satisfying global lithium demand goes through them.
In Argentina, Chile and Bolivia, lithium is found in brine.
Here, lithium and cobalt naturally dissolve in natural salt pans called salars.
This process reduces the investment needed to extract lithium.
Evaporating Lithium Takes a While
These natural pools are filled with groundwater.
For now, miners wait for pools to evaporate. Potassium can be found in the early months.
Lithium is the end product, taking 5-6 months to dissolve. 
A technological breakthrough would speed things up.
Australia Uses Hard Rock Mining
Meanwhile, a more expensive method exists.
However, it leaves a larger environmental footprint. Drilling is more expensive than in brine mining, as boring through rock isn't cheap.
What's helped Australia is its ability to sell.
Australia and South America Fuel Chinese EVs
This has allowed Australia to spend big on exploration and mining operations.
Meanwhile, major brine producers like Orocobre are reporting less than expected results. 
As a result, hard rock mining has attracted buyers with deep pockets.
Consequently, speed is key.
Lithium Needs Time
The technology behind mining needs to keep pace with lithium demand.
Brine mining is a cheaper, eco-friendlier alternative to hard rock mining.
An Evaporation Pond Tech Advance Would Change Everything
Rich countries like Australia can drill into rock to extract lithium. Developing countries can't.
As with any other breakthrough, 'when' is more important than 'if.'