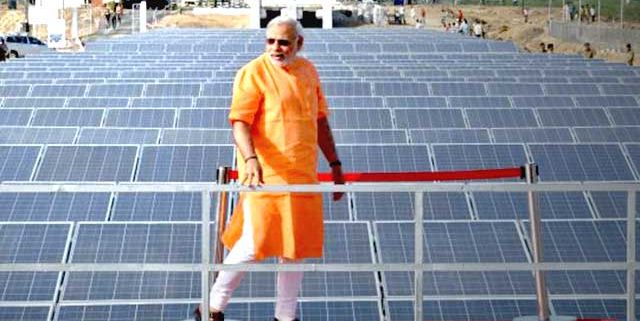 Green Revolution in India
Green Revolution in India: 100% by 2030?
India's Prime Minister has over 14 million Instagram followers. Narendra Modi's Twitter following is even larger. Nearly 44 million receive live updates from Lok Kalyan Marg, the PMs official residence. The conservative leader is "with it." A green revolution is never far from mind.
As a result, his vision of a nation pushing for modernization has few coal mines.
India's Air Quality is Horrific
It's rare that a country of 1.3 billion agrees on anything. An exception: pollution levels.
Traffic congestion is largely to blame and costs the nation's four largest cities nearly $20 billion every year.
The government has been vocal about changing this. However, few bought the hype when it echoed China's goal of 100% electric vehicles (EVs) by 2030.
Maddening policy issues curb economic growth, so the public is used to tempering expectations.
Yet, the world's largest democracy owns the world's 6th largest economy. As a result, its size is cause for optimism.
Nevertheless, massive slums are everywhere. They are home to over 100 million. Any revolution – especially a green revolution – would greatly improve the overall quality of life.
India's Green Revolution is Needed
The government is no longer aiming for 100% EVs by 2030. Instead, it now aims for 30% of all 2030 vehicle sales to be electric.
This is a far cry from the original goal, but a realistic approach is needed.
To achieve this goal, the country will support private, corporate and government partnerships. 
A Better India for the Next Generation

Pollution levels exceed China's major cities. In addition, the country lacks the infrastructure to deal with health problems.
Even worse, 30% of the world's poorest children live in India. Child labour is common and sanitation levels are unacceptably low. 
The country's economy grew 250% from 1975-1995. Over the same time, vehicular pollution grew by over 700%.
In response, auto-rickshaws became commonplace.
The rickshaw changed transportation nationwide. They are 3-wheeled, door-less vehicles that allow for increased mobilization. Many of these vehicles run on natural gas (CNG), a market that has diminished in recent years.
While this transition from two-stroke engines reduced overall emissions, it's impact was small.  
Making Indian Roads Clean
India is a developing country with an economy hampered by overpopulation and civil disorganization.
Besides, traditional values keep one-half of its workforce at home. 
Electrifying its auto-industry would reduce the global EV price. This would improve the average Indian's quality of life.
A nation used to coughing its way out of bed would benefit from a green revolution.
Help is on the way.
Rideshare company OLA is adding over 10,000 electric rickshaws to its fleet in 2018. 
The country produces over 500,000 rickshaws every year. Nevertheless, this represents a large shift.
Technology Improves the Green Revolution
India has much to be excited about.
Lithium-ion batteries are holding longer charges than ever. More countries are investing in clean transportation initiatives.
Green revolution technology is becoming cheaper and more sophisticated.
Modi could set his country on a prosperous path.
Ultra Lithium Inc. A team of lithium experts with a finger on the pulse of clean energy news, Ultra Lithium is a lithium exploration company with holdings in Argentina, Canada and the US (TSX-V:ULI, OTCQB: ULTXF and Frankfurt: QFB).