Lithium Based Energy Storage on the Rise
Lithium Based Energy Storage Outpacing Competition
More homes than ever are installing lithium based energy storage systems. Consequently, more homeowners are using lithium-ion batteries to power solar grids. This is great news for an industry built on sustainability. Lithium-Ion is significantly more eco-friendly than traditional lead-acid batteries. Furthermore, the industry will boast an annual value of $4.3 billion USD by 2020. This is the first time residential installations exceed those powering commercial projects.
There are many reasons households are making the change. First, electric vehicles are becoming more popular among middle and upper classes. Second, individuals choose to install solar arrays for environmental purposes. Powering these arrays with lead acid batteries isn't a sustainable tactic..
Lastly, lithium based energy storage technologies are rapidly advancing.
.
Residential Market Sees Most Growth
Commercial and industrial lithium grid storage projects are increasing. Meanwhile, so is the cost-benefit among homeowners to follow suit. Currently, many territories offer subsidies that reward such behaviour.
Furthermore, most North American battery installations are lithium systems. In 2018, lithium systems carry a 20-year life expectancy. Meanwhile, lead-acid systems last for just 5. Consequently, technology has reached a point where hearts and wallets meet eye-to-eye. However, the advantages of lithium based energy storage systems don't end there.
First, they're lightweight and easy to install. Second, they're aesthetically pleasing (see below) and require no additional ventilation or specialized equipment. Third, they can be installed both inside and outdoors.
Lastly, these systems feature energy management software that optimizes energy use.
Lithium Phasing Out Lead Acid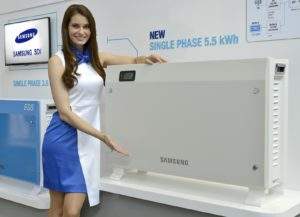 More solar array consumers look to add storage capacity to their systems. Additionally, more consumers are relying on lithium-ion batteries to satisfy their energy needs. Lithium powers Smartphones, laptops, desktop PCs, vaporizers and virtually all other consumer electronics.
Moreover, there are numerous advantages to lithium-ion over lead-acid batteries. Among them: storage capacity, density, size, weight, and lifespan. Those installing lithium based energy storage systems aren't dreamers. Instead, they're pragmatists – able to notice a sweeping trend when they see one.
Related Articles
Ultra Lithium Inc. A team of lithium experts with a finger on the pulse of clean energy news, Ultra Lithium is a lithium exploration company with holdings in Argentina, Canada and the US (TSX-V: ULI, OTCQB: ULTXF and Frankfurt: QFB).