Toyota and Panasonic to Make Lithium Batteries
Toyota and Panasonic Partnership Exciting
Two Japanese tech giants have joined forces. Toyota and Panasonic have started a joint-venture to manufacture and sell EV batteries. Consequently, the move sends shockwaves of optimism through clean energy circles.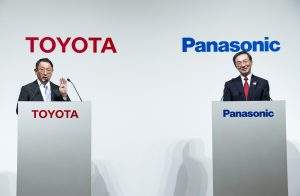 Currently, Toyota is Japan's largest company. Meanwhile, Panasonic is outside the top 10 of the world's largest Japanese companies. However, this is due to a slump in Japanese electronics. Panasonic is optimistic the joint-venture will boost the firm's value. Additionally, the EV industry is better for it.
Batteries for Electrified Vehicles
The firms plan to create lithium-ion batteries for electrified vehicles. Note: this includes both hybrid and all-electric vehicles. Currently, Tesla is Panasonic's primary EV battery client. However, it plans to use Toyota's engineering technologies to develop prismatic cells. As it stands, Tesla only uses cylindrical cells. Hence, the project will produce prismatic lithium-ion batteries for use in all other EVs.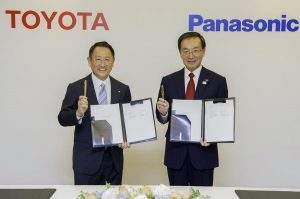 Toyota to Benefit from Panasonic's Battery Expertise
Additionally, the joint-venture involves several factors. First, the agreement will be finalized by 2020. Second, Toyota receives 51% equity participation; Panasonic receives 49. Third, the final number of team members will be 7,000. This will include 3,500 from both Toyota and Panasonic. Lastly, the lithium batteries produced will be sold through Panasonic. Toyota will largely benefit, as it commands primary ownership over the batteries.
Moreover, the world is set to benefit from an overwhelming trend. Major automakers continue to jump on the clean transportation train.
Related Articles
Ultra Lithium Inc. A team of lithium experts with a finger on the pulse of clean energy news, Ultra Lithium is a lithium exploration company with holdings in Argentina, Canada and the US (TSX-V: ULI, OTCQB: ULTXF and Frankfurt: QFB).