Electric Car Winter Performance: The Truth
Owners Encouraged by Electric Car Winter Performance
The Northern hemisphere is caught in a vicious cold snap. However, this is nothing new. Granted, certain parts of Canada are colder than the surface of Mars. As a result, clean energy tech is tested under freezing conditions. To no one's surprise, negative articles about electric car winter performance are everywhere.
However, this appears to be anti-EV propaganda. Much like Trump's crusade against zero-emission transportation, the argument doesn't appear to have much substance. Admittedly, electric vehicle winter performance is lower than in warmer climates. Furthermore, tomorrow's commute to the office requires more charge time.
Yet, you can rest assured your EV's engine will turnover in the snow.
Easier to Start than Combustible-Engines
Meanwhile, gas-powered vehicles are reliably unreliable on cold mornings. Luckily for your neighbour, their Tesla Model 3 is unlikely to cause a delay. With the click of a button, it's off to work. Additionally, the large batteries provide a low centre of gravity. Consequently, poor conditions are easy to navigate.
What's more, battery range isn't an issue for most EV drivers. According to the CBC, one charge provides 300km at -34°C. Meanwhile, ideal conditions allow nearly 500km.
Lithium-Ion Batteries in the Cold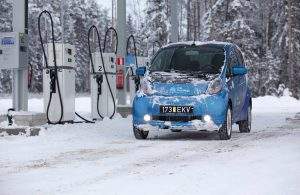 The science behind lower EV ranges in cold weather is simple. Ultimately, cold weather increases internal resistance and diminishes capacity. This is because engineers assume warmer temperatures when calculating battery life. Similarly, Smartphones use the same logic. Any skiing enthusiast knows that taking an action shot on is tough later in the day.
However, a solution to this problem is coming. Nearly every major automaker has announced plans to release EV models. As a result, Li-Ion battery research enjoys major investment dollars.
Meanwhile, city-dwelling EV owners are patient. You'll see them at their desk tomorrow, on-time.
Related Articles
Ultra Lithium Inc. A team of lithium experts with a finger on the pulse of clean energy news, Ultra Lithium is a lithium exploration company with holdings in Argentina, Canada and the US (TSX-V: ULI, OTCQB: ULTXF and Frankfurt: QFB).