Porsche Taycan Wildly Popular
Automaker Doubles Production of Porsche Taycan
The Porsche Taycan is yet to hit the market. However, the German automaker is already forced to double production of its electric vehicle.
The Porsche Taycan isn't available until late 2019. Nevertheless, production has been doubled from 20,000 to 40,000 units. Consequently, industry experts believe it'll be the year's hottest vehicle. Unfortunately, the waitlist is long. Additionally, registration isn't cheap. Details vary from dealer to dealer, but some require a $5,000 USD deposit. Meanwhile, some require no deposit.
Modern Luxury Means Sustainability
The Porsche Taycan is expected to rival the Tesla Model 3 in performance. However, the Taycan comes with the prestige of Porsche. Moreover, Porsche was ready for this. It needn't look far for proof. Several luxury carmakers have entered the EV market and have faced similar demand gluts.
Evidently, Porsche isn't the only automaker experiencing massive demand. Jaguar, Audi, Ford, Harley-Davidson, and several other firms experience the same supply shortage.
Lithium Market to Benefit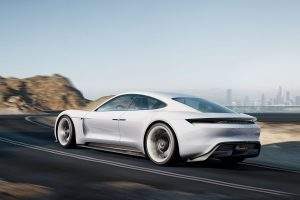 When it comes to energy storage, some warn of lithium oversupply. However, a persistent trend suggests otherwise. Major automakers invest heavily in electric vehicle fleets. Additionally, national governments continue to back clean transportation initiatives. Consequently, lithium-ion battery use won't slow. They'll power the Taycan's prismatic cells. Meanwhile, worries about range anxiety and EV performance slowly erode. The Taycan will go 0-to-60 mph in 3.5 seconds or less.
Ultimately, EV technology will soon catch up with its gas-emitting competitors. Furthermore, the world's largest automakers invest billions in EV battery R&D. Some even partner together to get ahead of the curve.
Related Articles
Ultra Lithium Inc. A team of lithium experts with a finger on the pulse of clean energy news, Ultra Lithium is a lithium exploration company with holdings in Argentina, Canada and the US (TSX-V: ULI, OTCQB: ULTXF and Frankfurt: QFB).