Polymer Sponge Lining Doubles Li-Ion Battery Life
Polymer Sponge Lining Another Major Breakthrough
Range anxiety continues to worry both potential and existing electric vehicle owners. The thought of being stuck at a busy intersection or on a country road with no charging station in sight is a rational concern. However, a polymer sponge lining will allow EV drivers to sleep easy. This advance comes in the wake of several others.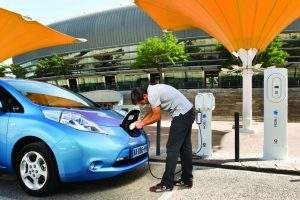 First, solid-state batteries could double battery life while halving charge time.
Second, 3D-printing increases the rate at which lithium-ion batteries are produced.
Third, lithium-tellurium batteries present a more efficient alternative to lithium-ion.
Now, researchers at Penn State University have created a 3D cross-linked polymer sponge that attaches to the metal plating of a battery anode. Believe it or not, that's English. Simply put, this recent discovery means charging your car will no longer be a nightly responsibility.
Moving the Global Economy Forward
Researchers noted that fast-charging stations put Li-ion batteries under extra strain, reducing cycle life and causing major safety issues.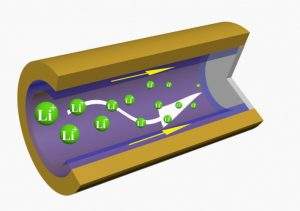 Placing a polymer sponge lining inside the metal plating solves the problem. The primary goal was to remove dendrites, the needle-like formations causing battery degeneration. Even at low temperatures and in fast charging conditions, the experiment worked.
Consequently, this breakthrough will increase the value of lithium-ion batteries. Of note, the advance will improve the global economy beyond the transportation sector. Furthermore, everything from Smartphones to laptops use lithium-ion batteries for power.
Say hello to an iPhone that lasts longer than 1 day.
Lithium Shortage Persists as Major Players Enter Space
In 2017, Dyson announced plans to create it owns electric car. Around this time, both Apple and Google did the same.
Although electric vehicles make up only a fraction of global auto sales, market share steadily increases. Consequently, tech giants recognise a trend. Along with China's ambitious clean energy plans, the transportation industry moves toward sustainability.
However, lithium is heavily relied upon to power this shift. Smartphones, laptops and all consumer electronics use lithium-ion batteries. Now, electric vehicles consume over 50% of global lithium reserves.
Ultra Lithium Inc. A team of clean energy experts with a finger on the pulse of mining news, ULI is a lithium exploration company with holdings in Argentina, Canada and the US (TSX-V: ULI, OTCQB: ULTXF and Frankfurt: QFB).