South America Lithium Could Power India
India Interested in South America Lithium
The world grows reliant on lithium. Consequently, both national governments and multinational corporations are after the world's lightest metal. Over half of the world's existing supply is shared between Argentina, Bolivia, and Chile. As a result, India has sent a delegation to secure South America lithium contracts.
Many developing countries have expressed similar interests. However, India's desire to go green is especially pressing. The country is the world's most polluted. As a result, the government strives to become a global lithium-ion battery manufacturer. Government-run Bharat Heavy Electricals has proposed the country's first gigafactory.
Developing World Drawn to Pollution-Free Tech
Domestically, there is massive demand for Li-Ion batteries. However, it's not to power 4-wheeled vehicles. Instead, mopeds and scooters are overwhelmingly going electric. Similarly, electric rideshare companies flood the market. Ultimately, EV adoption would save countless Indian lives. Therefore, the government aims for 30% EV sales by 2030. Granted, this goal is ambitious. Electrifying 1/3rd of a transport grid of 1 billion commuters is an immense undertaking.
Nevertheless, countries in South America's Lithium Triangle have offered to power this transition. New Delhi will host Argentina's president, Mauricio Macri, on February 17th. Trade terms will be discussed.
Lithium and Global Change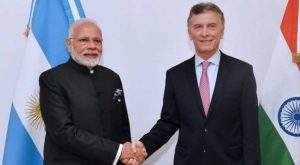 Moreover, leaders of the three Triangle countries strive to coordinate their efforts. The region has become a hotbed for global investment. Currently, most of the world's Li-Ion batteries are imported. Furthermore, consumer electronics represent the battery's most common use. This will change as electric vehicle adoption skyrockets.
India's economic turnaround hinges on its ability to leverage clean energy tech. Consequently, its determination to source lithium from the world's largest supplier is a no-brainer.
Related Articles
Ultra Lithium Inc. A team of lithium experts with a finger on the pulse of clean energy news, Ultra Lithium is a lithium exploration company with holdings in Argentina, Canada and the US (TSX-V: ULI, OTCQB: ULTXF and Frankfurt: QFB).