German Lithium Investment in South America
German Lithium Investment Challenges Chinese Dominance
China owns half of the world's lithium supply. Additionally, its electric vehicle industry is unmatched. Ultimately, western powers lag behind China in these areas. However, a major German lithium investment in South America changes things.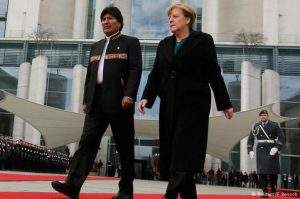 In December 2018, Germany and Bolivia agreed to a partnership. As a result, the European power now has access to a vast Bolivian lithium deposit. Consequently, president Evo Morales (below, pictured with Angela Merkel) chose a family-run company over his country's biggest non-institutional lender. In the end, German firm ACI Systems won the bid.
With an Eye on Sustainability
In the past 2 years, China's invested $4.2 billion in South America. Furthermore, its Belt & Road Initiative makes lithium investing a priority. Moreover, the communist state owns 60% of global battery production capacity.
Meanwhile, the German lithium investment will reduce the country's reliance on Asian battery makers. Additionally, it'll enable the country to speed up domestic EV production.
Lithium a Hot Commodity
Ultimately, Morales chose Germany because of its commitment to sustainability. Like Argentina, lithium in Bolivia is primarily sourced through brine mining. However, the eco-friendly method uses brine pools to surface lithium deposits. The practice relies on sunlight.
Meanwhile, competitors (including Australia) source lithium through environmentally destructive means. Hard rock mining involves blasting the earth with explosives. As a result, automakers and governments alike lean toward South American brine mining. Expect more western investment in this region.
Related Articles
Ultra Lithium Inc. A team of lithium experts with a finger on the pulse of clean energy news, Ultra Lithium is a lithium exploration company with holdings in Argentina, Canada and the US (TSX-V: ULI, OTCQB: ULTXF and Frankfurt: QFB).