Harbour Air Electric Plane Coming Soon
Harbour Air Electric Plane to Fly Passengers Between Seattle, Victoria, Vancouver
In British Columbia, 41% of carbon emissions are caused by transportation. Moreover, transportation is the world's primary cause of climate change. As a result, governments and corporations act to reduce carbon emissions. Even the United States is trying to revive its expired electric vehicle tax credit. Evidently, the future is obvious among Vancouverites. Electric cars are everywhere. However, the middle class is still priced out. Nevertheless, passengers will soon be able to reduce their carbon footprint in a Harbour Air electric plane.
That's right, the Harbour Air fleet will soon feature a 75-horsepower electric plane. North America's largest seaplane airliner, the long-term plan is to offer an exclusively battery-powered fleet.
Currently, the company owns 42 planes that navigate 12 routes. In 2018, it served over 500,000 passengers.
British Columbia Sets a Global Standard
Evidently, the Harbour Air electric plane is the first of its kind. The upcoming prototype sets the stage for the first ever fully electric commercial flight.
The six-passenger DHC-2 is the first model to be retrofitted. Consequently, Harbour Air doesn't want to wait. Soon, the technology will be economically viable.
Harbour Air CEO Greg McDougall is aware. Granted, he admits an uphill battle is coming. "But that's changing very rapidly with the development of the (lithium-ion) battery technology."
International Shift to Lithium-Ion Batteries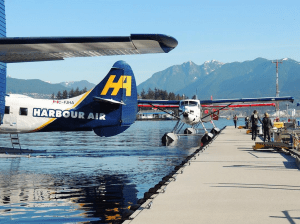 This isn't the first example of an airline experimenting with planes powered by lithium-ion batteries. Currently, EasyJet is testing the technology. Soon, electric planes will fly passengers between London and Amsterdam.
Moreover, the transportation industry overwhelmingly goes green. Most of the world's largest automakers will soon offer electric fleets.
The British Columbia government is aware. Recently, it became the first North American region to set a carbon-emission phase-out target.
Evidently, the future is in lithium-ion batteries, be it on land or in the air.
Related Articles
Ultra Lithium Inc. A team of lithium experts with a finger on the pulse of clean energy news, Ultra Lithium is a lithium exploration company with holdings in Argentina, Canada and the US (TSX-V: ULI, OTCQB: ULTXF and Frankfurt: QFB).