Electric Aston Martin Unveiled
First Electric Aston Martin Unveiled by British Auto-Titan
The Shanghai Motor Show has become a favourite among hobbyists and industry insiders. However, it wasn't always this way. In recent years, the Chinese automotive industry has received global attention. Ultimately, it's a trailblazer, leading the world in electric vehicle adoption rates. Not surprisingly, most of the world's largest automakers have taken notice. As a result, the first ever electric Aston Martin was unveiled at this event.
Ultimately, the Rapide E is a gas-powered version of the Rapide S. However, it offers aerodynamic upgrades. Aston Martin is wary about battery range and tasked its engineers with reducing draft as much as possible.
The 4-door is truly one of a kind. Aston Martin has decided to leave electric vehicle manufacturing to its subsidiary, Laconda. Evidently, this model is a rarity.
Don't Count on Driving One Yourself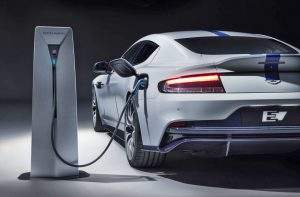 Only 155 will ever be produced. Moreover, expect it to cost well over $200,000 USD. That Tesla Model 3 remains a more viable alternative.
The car offers a 602-horsepower electric engine. Meanwhile, it can travel over 200 miles on a single charge. Regrettably, this is lower than the industry standard. Most luxury models can travel well over 300.
Going from 0-60mph in 4 seconds, Aston Martin still offers a gas-powered version of the Rapide E.
Another Example of Automakers Electrifying
The branded sound of the engine's roar attracts many consumers. Granted, electric vehicles will soon offer manufactured engine sounds. Nevertheless, the electric Aston Martin doesn't purr when foot touches pedal.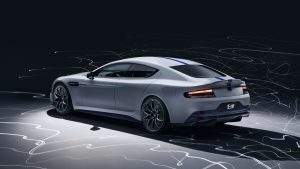 This story isn't exactly surprising. Most of the world's automakers have electrified. Furthermore, non-automotive companies like Dyson have entered the EV game.
Meanwhile, industry stalwarts like Volkswagen have determined that focusing on gas-powered vehicles is bad for business.
Is the clock ticking on Aston Martin's allegiance to combustible-engines?
Related Articles
Ultra Lithium Inc. A team of lithium experts with a finger on the pulse of clean energy news, Ultra Lithium is a lithium exploration company with holdings in Argentina, Canada and the US (TSX-V: ULI, OTCQB: ULTXF and Frankfurt: QFB).