Rivian Receives $500m Investment from Ford
Ford Invests $500m in EV Startup Rivian
Sustainable transportation is all the rage. Consequently, companies involved in the space are worth billions. Evidently, Tesla's ability to champion the shift has benefited competitors. Rivian, valued at $5 billion, is one of these beneficiaries. Ford recently invested in $500m USD in the auto tech company.
Primarily, the company focuses on technology behind sustainable transportation. Founded in 2009, it's famous for its "skateboard" chassis. Ultimately, Ford plans to build a North American EV with Rivian tech. The "skateboard" bundles lithium-ion batteries with controls and an electric motor.
Rivian plans to release its first two vehicles in 2021. Firstly, a utility vehicle will hit the market. Secondly, an electric pickup will become available.
A Potential Tesla Rival
Both vehicles will go into production in late 2020. Granted, there is much excitement about their appeal to outdoor-loving consumers.
However, there is a larger story behind these vehicles. Currently, Tesla's stock keeps dropping. Valued at $45 billion, the automaker's value exceeds Ford's by $7 million.
If Ford plays it's cards right with Rivian, these positions could flip.
Automakers Go Big on Electric Fleets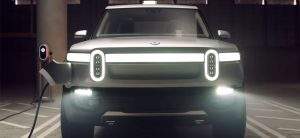 Furthermore, Ford isn't alone. Additionally, Amazon has also expressed confidence in Rivian. The online retailer has announced plans to invest $700 million in the EV startup.
Not surprisingly, this is in response to a shift in the automotive landscape. Today, most of the world's largest automakers have announced plans for EV fleets. Even Harley-Davidson is on board.
Moreover, Volkswagen has determined that neglecting the EV market is bad for an automaker's bottom line.
As a result, it'll be interesting to see if Tesla can survive this rapid increase in competition.
Related Articles
Ultra Lithium Inc. A team of clean energy experts with a finger on the pulse of clean energy news, ULI is a lithium exploration company with holdings in Argentina, Canada and the US (TSX-V: ULI, OTCQB: ULTXF and Frankfurt: QFB).