Tesla 3 Outsells All Other EVs…Combined
Buying Habits Converge as Tesla 3 Outsells Rest of Industry
It's no secret the Tesla Model 3 is the bell of the electric vehicle ball. However, few anticipated its ability to overwhelm the competition. Indeed, this is the case as the Tesla 3 outsells all other EV models in the US – combined.
Overall, the vehicle makes up 63% of all 2019 US electric car sales. Consumers have received over 67,000 plug-in cars throughout this period.
Meanwhile, just over 108,000 electric vehicles in total have been delivered.
Tax Credit Responsible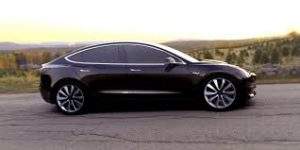 Ultimately, these numbers are encouraging. Most importantly, they represent massive spikes over 2018 sales. Just over 63,000 electric vehicles had been sold at this time last year.
Consequently, 'Tesla 3 Outsells 2018 US Market' is an acceptable title for this article.
However, sales spiked in the lead up to July 1st. On this date, Tesla's tax credit was slashed to $1,850. This follows an initial slash on January 1st.
Tesla Enjoys Market Dominance – While It Can

Nevertheless, Tesla's ability to lap the field will diminish in time. Most of the world's largest automakers have announced plans to roll out electric fleets. In particular, GM plans to cater to the middle-class.
Granted, Tesla's status as the 'Apple' of the EV market will help. Its brand recognition alone will ensure the American company survives (and potentially thrives) for years to come.
As the Tesla 3 outsells an entire generation of electric vehicles, it's safe to say Elon Musk & Co. have a healthy headstart.
Related Articles
Ultra Lithium Inc. A team of clean energy experts with a finger on the pulse of clean energy news, ULI is a lithium exploration company with lithium holdings in Argentina, Canada and the US and gold holdings in Argentina. (TSX-V: ULI, OTCQB: ULTXF and Frankfurt: QFB).