EV Record: Man Travels 33 Countries
Man Sets EV Record with 3 Year Trip
A Dutchman has set an EV record. Evidently, he's set a global standard for clean transportation tech. Wiebe Wakker set off on a 3-year voyage in 2016. It spanned 33 countries and involved over 59,000 miles.
Part of the Plug Me In Project, Wakker used exclusively vehicles powered by lithium-ion batteries.
Surprisingly, he didn't opt for a Tesla Model X. Moreover, he didn't even use a luxury EV. Instead, he traveled the globe in an electric station wagon.
Inspiring a Global Standard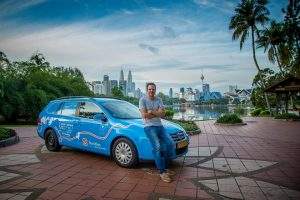 Affectionately called the "Blue Bandit", Wakker's trip was by no means stress-free. Evidently, he ran into many problems. After all, EV charging stations are few and far between in the Australian countryside.
Consequently, he relied on friendly strangers. He went only where people could offer him a charging station.
Amazingly, he spent no more than $300 on electricity throughout the trip. Granted, much of it was covered by intrigued strangers who followed his travels online.
Most of the trip took place in the Australian outback.
Li-ion Batteries Prove Very Effective
Ultimately, his goal was to spread electric vehicle awareness. He chronicled his adventures on social media and ended up setting a second EV record.
Last year, he traveled 606 miles on a single charge in a Tesla Model 3.
Evidently, the lithium-ion batteries that power electric vehicles are pushed to the limit by trailblazers like Wakker. Moreover, the underlying technology benefits. Soon, Wakker's journey won't seem to wacko.
Related Articles
Ultra Lithium Inc. A team of lithium experts with a finger on the pulse of clean energy news, Ultra Lithium is a lithium exploration company with holdings in Argentina, Canada and the US (TSX-V: ULI, OTCQB: ULTXF and Frankfurt: QFB).