Audi E-Tron Electric SUV Facility Is Carbon Neutral
Audi E-Tron EV Facility Sets Eco-Benchmark
Unfortunately, electric vehicle production isn't as eco-friendly as electric vehicles themselves. However, this is set to change. In Brussels, Belgium, the Audi E-Tron electric SUV facility is carbon neutral. This means it doesn't negatively impact the environment.
Meanwhile, most EV manufacturing facilities aren't. This has monumental implications for a rapidly electrifying auto industry.
Shockingly, a report found that EV production emits slightly more emissions than gas-powered vehicles. Nevertheless, this won't last long. The Volkswagen-owned Audi E-Tron facility is making sure of it.
A Promising Step Forward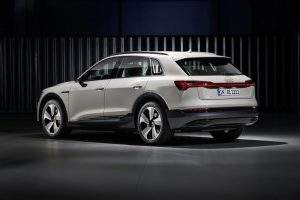 Tesla has long lamented that current EVs only offer long-term environmental benefits. However, you'll rarely find Tesla drivers complain. Record-cheap fuel prices
and zero-emission transportation don't typically produce frowns.
Nevertheless, both corporations and governments want the environment to benefit before EVs leave the plant. Especially after "dieselgate", Volkswagen is more eco-obsessed than ever. As a result, the group of companies made a decision.
The plant's director of production, Patrick Danau, summarizes the company's new ambition: "The answer was obvious: Minimize the energy consumed and use different types of energy production to begin with."
World's Automakers Go Green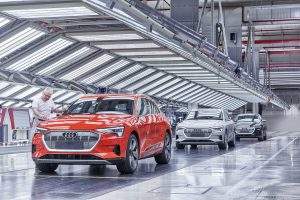 Evidently, the 540,000-square meter is a hub of innovation. Most notably, the heavily-automated facility stores most of its energy in lithium-ion batteries. These are the same batteries that power the electric vehicles the facility assembles.
Evidently, the photovoltaic farm on the building's roof uses the same logic that powering plug-in vehicles.
The world's automakers are set to benefit from Audi's inventive spirit. Moreover, the facility will help accelerate the switch to clean energy transportation. Every automaker from Harley-Davidson to Honda to Toyota to Dyson(?) will take advantage.
Namely, they'll be able to leverage Audi's findings to create their own eco-friendly facilities.
Related Articles
Ultra Lithium Inc. A team of lithium experts with a finger on the pulse of clean energy news, Ultra Lithium is a lithium exploration company with holdings in Argentina, Canada and the US (TSX-V: ULI, OTCQB: ULTXF and Frankfurt: QFB).